Team Leader Antibody Engineering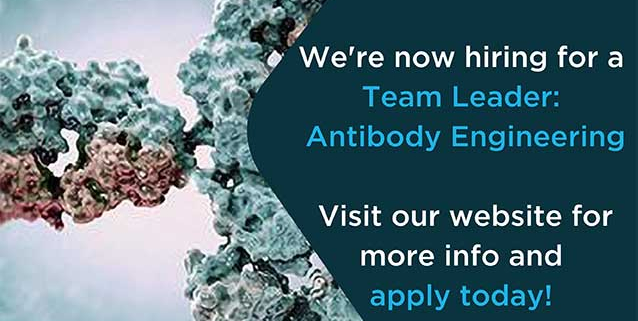 Fusion Antibodies
About Fusion Antibodies
Fusion Antibodies is a Contract Research Organisation (CRO) that provides a range of service in the area of antibody engineering for the development of antibodies for both therapeutic drug and diagnostic applications. Focusing on antibody generation, development, production, characterisation and optimisation, these services include antigen expression, antibody production, purification and sequencing, antibody humanisation using the Company's proprietary CDRx™ platform and the production of antibody generating stable cell lines to provide material for use in clinical trials. Since 2012, the Company has successfully sequenced over 250 antibodies and successfully completed over 215 humanisation projects for its clients.
Headquartered in Belfast, Northern Ireland, the Company was established in 2001 as a spin out from Queen's University. It was initially a drug development business and revised its operations to focus on CRO work in 2011 listing on AIM in December 2017. The company has ambitious plans to grow with a strategy based on the expansion of its client base as well as the addition of new service offerings. This strategy uses the Company's proven technology and expertise and targets expansion both in the UK market and internationally. Key new service offerings being developed include antibody affinity maturation, an Artificial Intelligence based discovery platform (AI/ML-AbTM) and a Mammalian Antibody Library Display Platform which represent key future growth drivers.
Fusion is at a key phase of the Company's evolution and is poised for growth.
Brief Position Summary
The role of Antibody Engineering Team Leader will be responsible for all aspects of protein engineering, particularly monoclonal antibody drugs. This will include multi-specific antibody design, affinity maturation, protein-protein docking, developability analysis, humanization and antigen design. The team leader will manage a team of scientists while acting as a liaison with other business units.
Primary Position Responsibilities/Tasks
Responsibility for planning, implementation and management of projects (including liaising with clients on a weekly basis).
Share and discuss data with management to ensure production demands are met within agreed timelines.
Responsible for the line management and development of other scientific staff within Fusion (support and supervision, training, staff appraisals etc).
Ensuring reports/results shared with clients are of a high standard.
Responsible for addressing all aspects of Antibody Engineering within the company including Antibody Humanization, Antibody Developability, Multispecific Antibody
Reformatting and Antibody Affinity Maturation (RAMP).
Work cohesively with the R&D team to develop new innovative Antibody Engineering technology.
Responsible for introducing state-of-the-art technology into the antibody engineering workflow including machine learning for drug discovery and optimization.
Responsible for overseeing antigen design and working cohesively with the Discovery Team to ensure client expectations are met.
Responsible for working cohesively with the Production team to ensure the smooth transition of vital information between teams.
Keep abreast of advancements within their area of expertise.
Ensure proprietary and external software in the Antibody Engineering department is up to date and functioning optimally.
Prepare and present oral and written reports on research activities to internal and external audiences. To act of the main point of contact for Fusion clients.
Provide technical consultancy to the business development team and lead technical calls with prospective and current clients.
Be proactive with their own CPD (continued personal development).
Ensure that all duties are performed in accordance with organisational standards, policies and procedures.
Perform other duties as assigned.
Job Specification
Essential Criteria
Industrial experience in computational biology, immuno-informatics, protein engineering, or structural biology.
PhD in Bioinformatics, Computational Chemistry/Biology or related field with 1 year's experience, or MSc with 3+ years of industry experience.
Key skills of the post holder include aspects of project management, technical expertise, communication, and stakeholder management.
Experience with protein engineering projects.
Desirable Criteria
Familiar with machine learning methods used in protein/antibody engineering.
Software engineering skills, especially with the Python programming language.
Familiar with NGS repertoire analysis.
Have the ability to mentor more junior members of the team and also be able to share your specialist knowledge with those you collaborate with.
Ability to communicate with specialists and non-specialists.
Familiarity with working in an ISO 9001:2015 environment.
Job Specification
Permanent, Full- Time

Benefits
Company pension
Flexitime
Sick pay
On site parking
Schedule
Day shift
Flexitime
Monday to Friday
Work Location: In person
Application Deadline: 17/11/2023
Reference ID: TLAE2023
Please apply to jobs@fusionantibodies.com by sending a CV and covering note detailing how you meet the criteria. 
https://fusionantibodies.com/wp-content/uploads/Antibody_Engineering_4.jpg
591
638
mint_design
/wp-content/uploads/2022/01/fusion-antibodies-logo.svg
mint_design
2023-10-26 12:52:32
2023-10-26 15:12:27
Team Leader Antibody Engineering