Appointment of Chief Executive Officer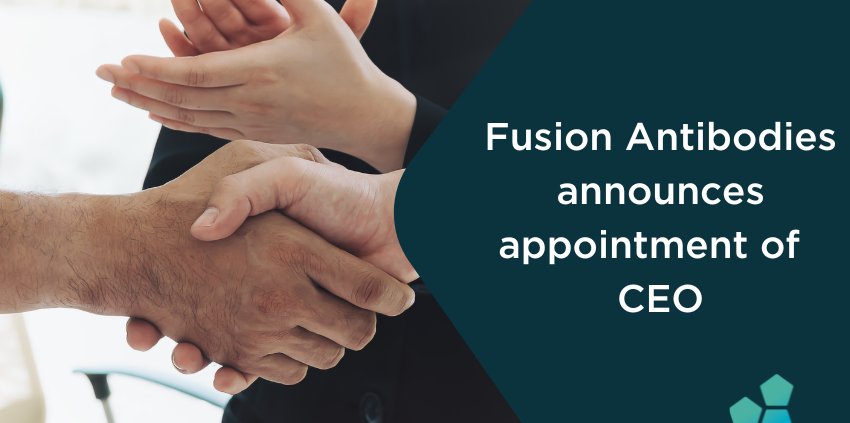 Fusion Antibodies plc (AIM: FAB), specialists in pre-clinical antibody discovery, engineering and supply for both therapeutic drug and diagnostic applications, announces the appointment of Dr Adrian Kinkaid as Chief Executive Officer ("CEO"), effective from Monday 15 August 2022. Adrian's appointment follows an extensive formal search process further to the Company's announcement on 14 March 2022.
Adrian Kinkaid is an experienced life sciences executive with 25 years' experience in life science and biotherapeutics industries.  He joins Fusion from Vortex Liquid Biopsy Solutions Ltd and Vortex Biosciences Inc. (together "Vortex"), a biotech group focused on world class technology for the isolation of high quality circulating tumour cells.  As CEO of Vortex, Adrian led the company's development, including management of its business units.
Prior to joining Vortex, Adrian worked as CEO at several antibody-based diagnostics companies including BioFab Ltd, and Lumabs BV.  He was formerly the Chief Commercial Officer for Promexus Ltd, a protein biotherapeutics company where he developed the corporate strategy for Therapeutic Affimers, culminating in a multi-target deal with a potential of over $1bn.  Adrian was previously Chief Business Officer of the Aptamer Group, and Strategic Market Development Leader for Abcam plc, the leading provider of research antibodies.
Adrian has a PhD in Biochemistry and undertook postdoctoral research with the Institute of Cancer Research, London.  As Chairman and founding member of the European Laboratory Research and Innovation Group, Adrian established their flagship Drug Discovery event, which is now the leading conference of its kind in Europe.
Simon Douglas, Chairman of Fusion Antibodies, commented: "I would like to welcome Adrian who joins Fusion at an exciting time as we focus on growing our antibody services and completing the development of and commercial roll out next year of OptiMAL, our Mammalian Antibody library."

Adrian Kinkaid said: "I am delighted to be joining Fusion Antibodies at this exciting time of growth and look forward to leading the Company to further commercial success.  Fusion Antibodies has a world class technology platform built over the last decade that has the potential to generate significant value and play a global role in the provision of high quality services to enhance the discovery and development of novel, effective antibody therapeutics."
| | |
| --- | --- |
| Fusion Antibodies plc | www.fusionantibodies.com |
| Simon Douglas, Chairman | Via Walbrook PR |
| James Fair, CFO | |
| | |
| Allenby Capital Limited | Tel: +44 (0)20 3328 5656 |
| James Reeve / Vivek Bhardwaj (Corporate Finance) | |
| Tony Quirke (Sales and Corporate Broking) | |
| | |
| Walbrook PR | Tel: +44 (0)20 7933 8780 or fusion@walbrookpr.com |
| Anna Dunphy | Mob: +44 (0)7876 741 001 |
| Paul McManus | Mob: +44 (0)7980 541 893 |
https://fusionantibodies.com/wp-content/uploads/LinkedIn-Templates-2.png
788
850
mint_design
/wp-content/uploads/2022/01/fusion-antibodies-logo.svg
mint_design
2022-07-28 15:39:20
2023-04-20 15:06:38
Appointment of Chief Executive Officer