Fusion Antibodies proud to support 'State of the Art' project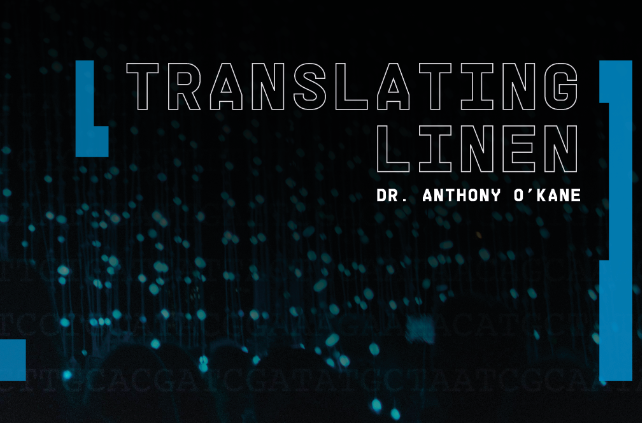 Northern Ireland Science Festival, in conjunction with Linen Biennale and funded by Northern Ireland Arts and Business, recently rolled out the virtual red carpet to premier Fusion Antibodies Head of Scientific Affairs, Dr Anthony O'Kane's 'Translating Linen.'
To create this piece, Dr O'Kane translated the DNA and amino acid sequences of linen into a melody, by creating a musical scale based on the amino acids of proteins generated by DNA. This piece was then overlaid with historical footage of sights and sounds of Northern Ireland linen mills provided by Northern Ireland Screen.
On completing the project, Dr O'Kane said:
"The arts and sciences do not just overcome barriers between disciplines but eliminate them such that the possibilities are limitless.
The genetic code determining the shape, structure and function of every organism is written in the codex of DNA.  Patterns of 4 bases clustered to form chains of 21 amino acids that form the proteins that govern everything in a process known as translation, hence the title of this project."
Anthony continued:
"Art has always been integral to science. It gives scientific ideas shape and imagination. Look into any science lab notebook to see how important art is to the very creation of scientific knowledge. Simple sketches in lab notebooks can be invaluable resources for researchers when they need to remember how they conducted an experiment, or even what the results were."
James Fair, CFO of Fusion Antibodies said:
"We were delighted to partner with Linen Biennale on this innovative project.
Innovation is at the heart of our organisation and we are proud to play our part in supporting the arts sector during this difficult time. This project is the perfect example of how organisations are successfully adapting to try and survive the impact of the pandemic.
Now, more than ever, we need to share the rich array of research in the world of science and the arts with the public and open the window to a world of thought-provoking research, and we are immensely proud of the work completed by Dr O'Kane for this project which does just that."
Alan Clarke, Chair of R-Space Gallery and the Linen Biennale concluded:
"We are delighted to raise the curtain on Dr O'Kanes 'Translating Linen,' and we are extremely grateful to Arts and Business for their funding and for support offered by Northern Ireland Screen which made it possible.
Finally but by no means least a huge thank you to all who participated in our programme, attended our virtual events and have helped to maintain the momentum of the festival despite current restrictions."
To listen to the full commentary and see the amazing end result of this project visit https://www.nisciencefestival.com/e21371-translating-linen—dr-anthony-okane
https://fusionantibodies.com/wp-content/uploads/translating-linen.png
461
642
mint_design
/wp-content/uploads/2022/01/fusion-antibodies-logo.svg
mint_design
2021-04-01 13:54:56
2022-04-05 10:45:38
Fusion Antibodies proud to support 'State of the Art' project